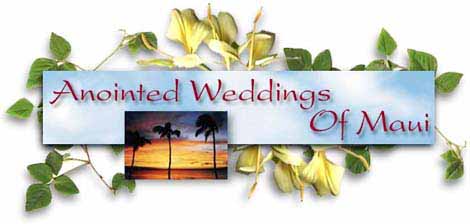 Home
| Wedding Packages | Adventure Weddings | Maltese Dreams Photography
Wedding Photos Slideshow | Testimonials | Bookmark Us
Browse Our Site Listening To Hawaiian Music
Aloha and Welcome to Anointed Weddings of Maui!
"Where We Specialize In You"
Minister Dyne Neil Shaffron and JoJo Maltese are your Maui Hawaii Wedding Consultants. Maui Wedding Photographer JoJo has been a professional Wedding Photographer & Wedding Planner in Hawaii since 1986. Minister Neil has been on Maui since 1993. Together they will help you create your own Romantic Hawaiian Style Beach Wedding or Vow Renewal Ceremony.
Let us take care of your wedding needs so you have time to enjoy the beauty and adventure of Maui.
So go ahead Be Excited Come to Maui and marry on a beautiful sandy beach or floral garden with awesome views, blue waters and colorful skys. You will be glad you did and Happy you chose Anointed Weddings to help plan and take care of your Maui Wedding. Mahalo Nui Loa (Thank you in a big way)
Click on photos to enlarge.
Anointed Weddings
P.O. Box 11743
Lahaina Maui, Hawaii 96761
On Maui Call: 808-665-0251
Fax: Dial 808-665-0251
E-mail: anointed@maui.net

Call Toll Free Today:
1-800-962-7622
| | | | |
| --- | --- | --- | --- |
| Maui Weddings | Maui Wedding Planner | Maui Beach Weddings | Maui Wedding Packages |
| Maui Wedding Sites | Maui Wedding Coordinators | Affordable Maui Weddings | Maui Vow Renewal |
Home
| Wedding Packages | Adventure Weddings | Maltese Dreams Photography
Wedding Photos Slideshow | Testimonials | Bookmark Us